Organic Wellness in Kitzbühel
Wellness at the Bruggerhof, Tyrol – relaxation for all the senses
Swim accompanied by views of the Kitzbühel Alps. Relax in the hot tub and gaze at the stars. Stretch out in our comfortable spa and allow the sunshine to caress your face. Here with us at the Bruggerhof, wellness in Kitzbühel is simultaneously a sustainable experience! Our peaceful wellness area is the ideal place to unwind. And thanks to the unique glass construction, our spa not only guarantees a spectacular view of the Kitzbühel Alps, it also provides natural warmth courtesy of the sun's radiation. Relax in a completely sustainable setting. As members of the BIO HOTELS association, we exclusively use certified organic cosmetics manufactured by Pieper Biokosmetik.

Enjoy our full array of sauna facilities including saltwater grotto and Laconium, unwind in the steam bath or get in a high-powered workout in our fitness room.
Wellness in Kitzbühel with indoor pool
Wellness in Kitzbühel? That simply has to include invigorating experiences in the water as well, right? Our indoor pool with spectacular views is a very special highlight of our organic hotel. The astonishing atmosphere of the Kitzbühel Alps will restore harmony to body, mind and soul.

Escape the outside world completely in our relaxation room. Make yourself comfortable on one of the numerous recliners next to the pool. In this intimate atmosphere, the hustle and bustle of daily life will be a distant memory.

With a depth of 1.4 m, the swimming pool is perfect for logging laps back and forth. The soothing hot tub as well as the kids' pool, where the youngsters can splash about to their hearts' content, are both right off the main pool.

Because we reduce the use of chemicals to an absolute minimum, you can count on very best water quality. And for perfect hygiene that doesn't harm nature, we only use the highest quality cleaning products. All products carry the EU Eco-Label, meaning they are gentle on people as well as the environment.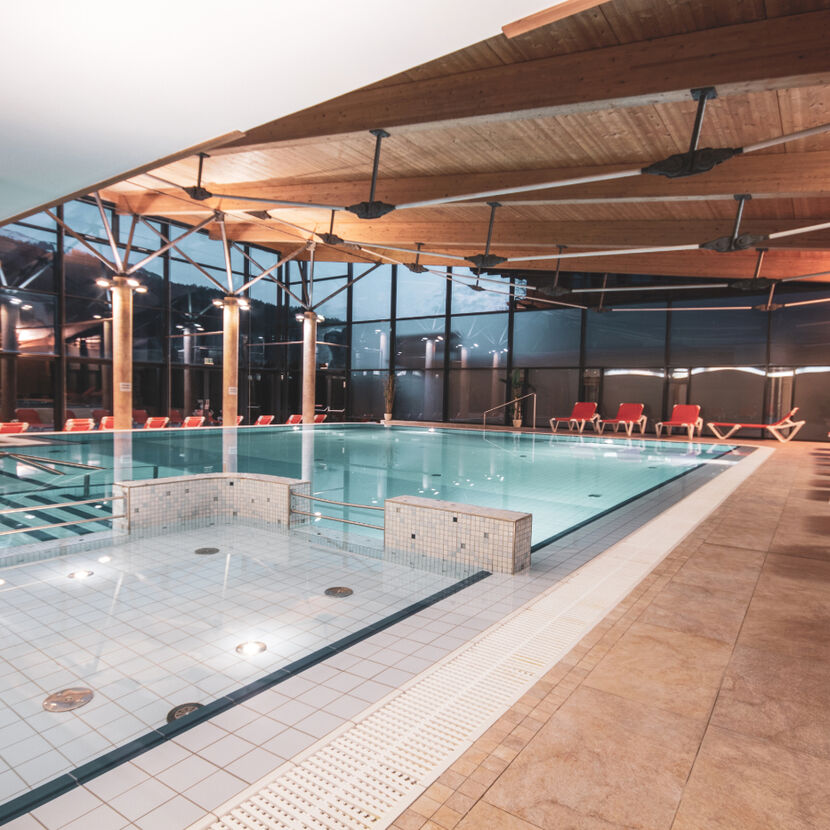 Wellness in Kitzbühel – our massages & treatments
Choose from classic facial treatments, Hot Stone treatments or facial care also tailored to the unique needs of our male guests. Here, too, we emphasize use of natural skincare products. An aspect also governed by the strict guidelines required by our membership in the BIO HOTELS association. Rest assured that only the best certified organic cosmetics ever come in contact with your skin. This is what sustainable wellness in Kitzbühel is all about!

All treatments are conducted by Elisabeth Holzner. As an expert cosmetician and wellness coach, she has lots of experience and is uniquely sensitive to your personal needs. With her, you are in the best of hands and can count on a genuine wellness experience.

In addition to classic treatments, she also offers body peels with natural oils as well as oil-candle massages. For all treatments, she uses high-quality, cold-pressed oils exclusively.
Wellness in Kitzbühel – our saunas
For us, wellness in Kitzbühel also means sustainable relaxation and healthy sweating. Working up a regular sweat in the sauna not only revives your spirit, it strengthens your immune system. With such a wide array of sauna facilities, you are certain to discover the sauna experience that's ideal for you.
Here with us, you can enjoy the heat of the Finnish sauna or pamper all of your senses in our organic herbal sauna.

All our saunas feature classic design and are made from natural wood. Take a deep cleansing breath and feel the natural air – chemical-free – in your lungs.

In the evening, enjoy traditional infusions together with your fellow sauna-goers. Complete information about our infusions is available at the reception.

We also have a soothing steam bath available to you, with pleasant effects on the respiratory passages, skin and mucous membrane.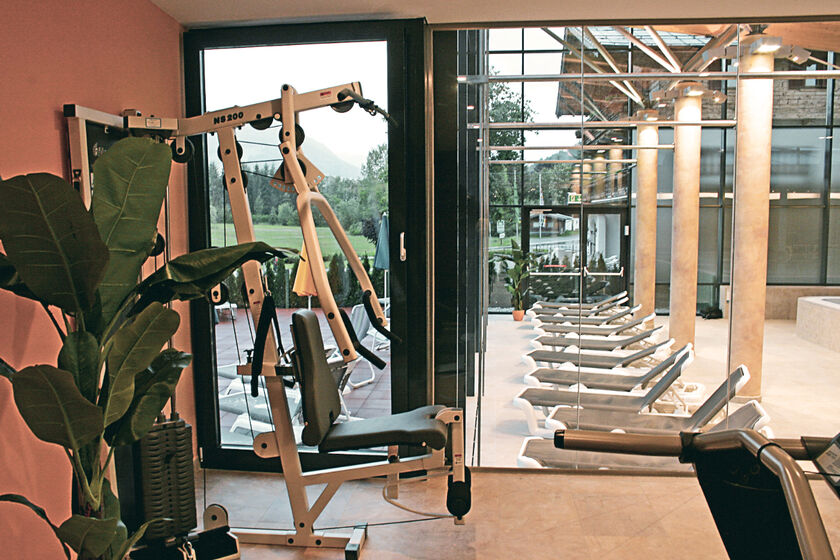 Wellness in Kitzbühel – our fitness room
Because we want to offer you an energizing, healthful wellness experience in Kitzbühel in bad weather as well, in addition to our wellness area you will also discover a fitness room with top-quality equipment.

In fact, the fitness room is only separated from the indoor pool by a glass wall. As a consequence, during your workout you will be able to gaze outside and almost feel like you're training outdoors.
Our fitness room features different pieces of equipment to keep you fit and active. For your endurance training, you have different forms of cardio equipment to choose from: our stationary bike, cross trainer and treadmill are all up to the latest technological standards.

Needless to say, we have also installed multi-function equipment for your strength training, allowing you to focus on specific muscle groups.
Virtual tour through our wellness area
Outstanding wellness facilities